I'm linking up with Jen for this 7 Quick Takes.
~ 1 ~
Last night I grabbed my laptop and sat down to write 7 Quick Takes after a nearly 3 week blogging break but I was just not in the mood. So I put the laptop away and snuggled up with Brian and watched the first episode of The Paradise, which has been patiently waiting on my DVR for weeks.
Now that it is Friday afternoon and the kids are quiet, (ha! Let's see how long that lasts!) I will try again.
~ 2 ~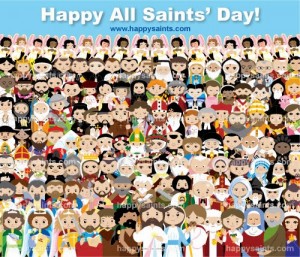 Photo Credit: Happy Saints.com (Love those guys!)
First off, Happy All Saints Day! We went to Mass this morning at the kids' school and the 3rd grade always dresses up as their patron saints and gives a little presentation. It was really beautiful and sweet. We were supposed to go to an All Saints Day party at a friend's house tonight but Brian and two of my little guys are not feeling well so I think we'll have to stay home. Bummer.
~ 3 ~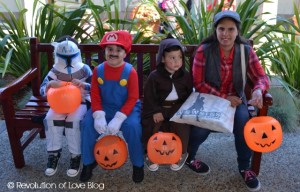 We did have a nice Halloween (although JP was already a little under the weather) and went trick or treating at a local shopping center that has an afternoon non-scary Halloween party for kids. The shops give out candy and there is a pumpkin patch, etc. We love it and go every year.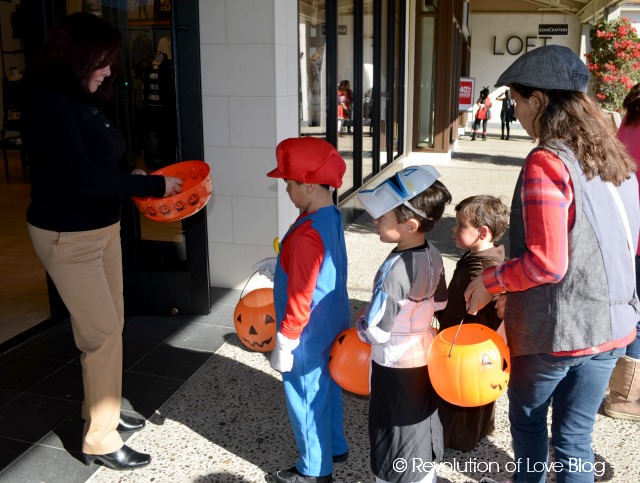 As for costumes we had Bella as a "Newsie", Andrew as Super Mario, John-Paul as a Star Wars clone trooper and Matthew as a Jedi Knight.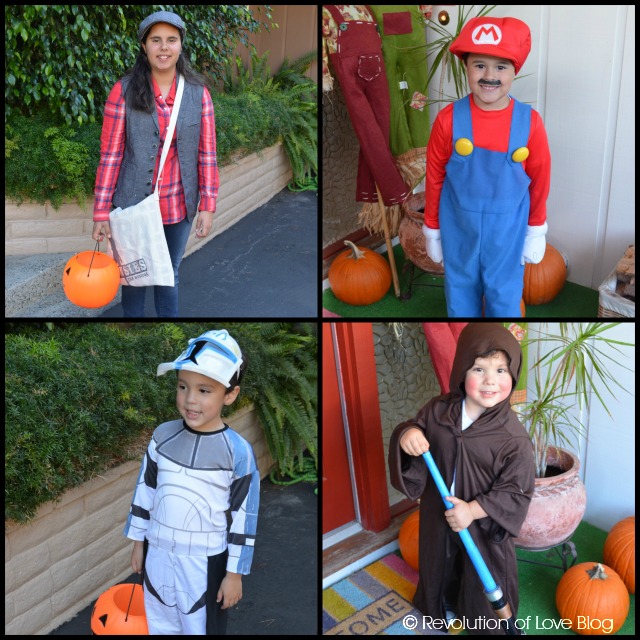 The best thing about afternoon trick or treating? By 7:30 we had the boys asleep, Bella reading in her bed and Brian and I ready to watch a movie and eat some candy. Yeah, the party days are over.
~ 4 ~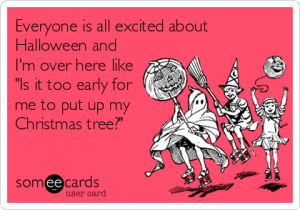 Now that Halloween is officially over, I can watch my Christmas movies and listen to Christmas music without guilt. I know, I know, it is still too early but I love it and December – to mid Jan is just not long enough for me to celebrate. I like to start since early October but curb it until Nov 1.
~ 5 ~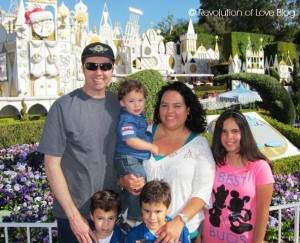 Disneyland 2012
I am also counting down until we return to So Cal for our annual trip to Disneyland and then Thanksgiving with my family. Although, we just saw each other at my sister's wedding (which was beautiful!) we were so busy with the preparations and festivities that we didn't really have a lot of one on one time together. That will be remedied in 24 days.
~ 6 ~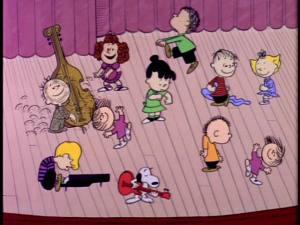 Don't forget to set your clocks back Saturday night! Happy dance!!
~ 7 ~
Have a great weekend!!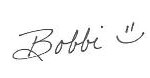 PS – You can follow RoL on Bloglovin, Feedly or another news feed. If you are a social media fan like me, we can stay in touch through Facebook, Twitter, Pinterest, GoodReads or Instagram.